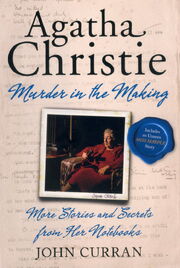 Agatha Christie
's life and career told through the decades, from the never-before-published original ending to her first book to the unused ideas for her last, complete with two unpublished Agatha Christie stories - including a lost
Miss Marple.
In this follow-up volume to the acclaimed Agatha Christie's Secret Notebooks , Christie archivist and expert John Curran leads the reader through the six decades of Agatha Christie's writing career, unearthing some remarkable clues to her success and a number of never-before-published excerpts and stories from her archives.
Starting his investigation in the 1920s, John Curran examines the conventions of detective novels as they existed then and how Agatha Christie's publisher talked her into changing the ending of her very first book, The Mysterious Affair at Styles , a move that almost certainly changed the fortunes of not only her career but the future of the whole crime writing genre. For the very first time, this book prints Agatha's original ending, painstakingly transcribed from her notebooks.
Every decade saw Agatha Christie's success grow to new heights. The emergence of the world-famous Collins Crime Club in 1930 brought with it the very first Miss Marple mystery, the austerity of the 1940s had Agatha Christie preparing to kill off Hercule Poirot , and the 1950s saw her experiment increasingly with formats influenced by more modern thrillers. Focusing on the detail of more than 20 Christie novels to illustrate this, John Curran shows the evolution of Agatha's writing through the decades, including the influence of the swinging sixties and seventies, concluding the book with a look at Agatha's last notebook, using his Christie knowledge to speculate about what she had in mind based on her brief notes for an unwritten final book.
Also includes a number of short stories from the archives reproduced in full, including the unpublished The Man Who Knew, How I Created Hercule Poirot, and an early draft for a Miss Marple story, The Case of the Caretaker's Wife.
Ad blocker interference detected!
Wikia is a free-to-use site that makes money from advertising. We have a modified experience for viewers using ad blockers

Wikia is not accessible if you've made further modifications. Remove the custom ad blocker rule(s) and the page will load as expected.