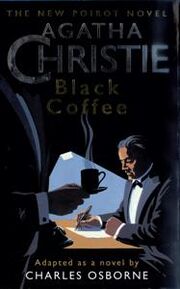 Black Coffee is a novelisation by the Australian-born writer and opera expert Charles Osborne of the 1930 play of the same name by crime fiction author Agatha Christie.
The novelisation was first published in the United Kingdom by HarperCollins on 2 November 1998 and in the United States by St. Martin's Press on 31 December 1998. It features Christie's famous literary creation Hercule Poirot, a London-based Belgian private detective.
Until the 1998 publication of the novel, the play on which it was based was one of the least known pieces in the Christie canon. The publication proved successful enough to warrant adaptations by Osborne of two other Agatha Christie plays, namely The Unexpected Guest in 1999 and Spider's Web in 2000.
Hercule Poirot and his friend Hastings are called upon to visit the home of the famous physicist Sir Claud Amory, who has devised the formula for a new type of explosive; but they learn that he has been poisoned (in his black coffee, hence the title) the night of their arrival. Poirot is now confronted with the challenge of figuring out which of the array of other people gathered at the Amory residence is the murderer. He questions every single person that was present at the night of the murder. He then concludes his investigation with the help of an old friend from Scotland Yard.
Film versions
Edit
The play on which Osborne's novelisation is based was filmed in England as Black Coffee in 1931, less than a year after its premiere staging in London. It was released on 19 August 1931 by Twickenham Film Studios and has a running time of just under 80 minutes. Julius S. Hagan produced it and Austin Trevor played the role of Poirot. Trevor had also appeared as Poirot in the 1931 film Alibi, which was made by the same studio a few months before Black Coffee. (Alibi was the first screen version of Christie's famous story The Murder of Roger Ackroyd.)
The Black Coffee play was filmed for a second time, this time in France, by Les Établissements Jacques Haïk. It was released as Le Coffret de laque on 15 July 1932, and internationally as The Lacquered Box.
Ad blocker interference detected!
Wikia is a free-to-use site that makes money from advertising. We have a modified experience for viewers using ad blockers

Wikia is not accessible if you've made further modifications. Remove the custom ad blocker rule(s) and the page will load as expected.