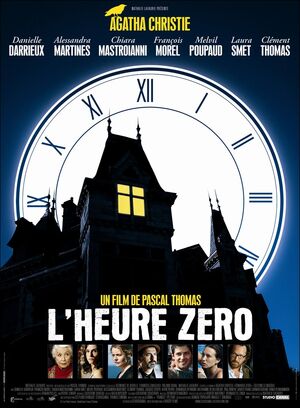 L'Heure Zéro
is a 2007 French mystery film directed by Pascal Thomas and starring François Morel, Danielle Darrieux and Melvil Poupaud. It is an adaptation of the novel
Towards Zero
by
Agatha Christie
.
Partial cast
Edit
François Morel - Commissaire Martin Bataille
Danielle Darrieux - Camilla Tressilian
Melvil Poupaud - Guillaume Neuville
Laura Smet - Caroline Neuville
Chiara Mastroianni - Aude Neuville
Alessandra Martines - Marie-Adeline
Clément Thomas - Thomas Rondeau
Xavier Thiam - Frédéric Latimer
Hervé Pierre - Ange Werther
Vania Plemiannikov - Pierre Leca
Jacques Sereys - Charles Trevoz
Valériane de Villeneuve - Emma
Paul Minthe - Heurtebise
Carmen Durand - Barrette
Ad blocker interference detected!
Wikia is a free-to-use site that makes money from advertising. We have a modified experience for viewers using ad blockers

Wikia is not accessible if you've made further modifications. Remove the custom ad blocker rule(s) and the page will load as expected.