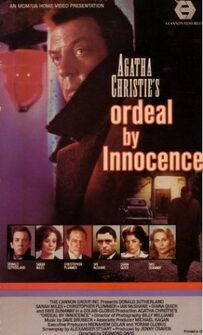 Ordeal by Innocence
is a 1985 mystery film directed by Desmond Davis. It stars Donald Sutherland and Faye Dunaway. It is based on the
novel of the same name
.
Paleontologist Dr. Arthur Calgary visits the Argyle family to give them an address book that belongs to Jack Argyle. But he is told that Jack has been executed for the murder of his wife many years ago. But the address book can prove that Jack was innocent, so Dr. Calgary starts the investigation all over.
Donald Sutherland - Dr. Arthur Calgary
Faye Dunaway - Rachel Argyle
Christopher Plummer - Leo Argyle
Sarah Miles - Mary Durant
Ian McShane - Philip Durant
Diana Quick - Gwenda Vaughan
Annette Crosbie - Kirsten Lindstrom
Michael Elphick - Inspector Huish
George Innes - Archie Leach
Valerie Whittington - Hester Argyle
Phoebe Nicholls - Tina Argyle
Michael Maloney - Micky Argyle
Cassie Stuart - Maureen Clegg
Anita Carey - Martha Jessup
Ron Pember - Ferryman
Production
Edit
Agatha Christie's daughter Rosalind , who had approval of the script, was initially concerned that Michael Elphick's police inspector, modeled to some extent after a harder-nosed American-style police officer, would prove unpopular among the local constabulary in Devon, where she lived.
The original score was not by Dave Brubeck but by Pino Donaggio, who wrote his typical, lush and beautiful music. When the film didn't test well, they decided to jettison the Donaggio score and replace it with Dave Brubeck music. Brubeck was told he'd have two weeks to write an original score - he said no. They then agreed that they'd use already existing Brubeck tunes and newly record them.
The film received a Royal Premiere in the presence of HM Queen Elizabeth II and Prince Philip.
Ad blocker interference detected!
Wikia is a free-to-use site that makes money from advertising. We have a modified experience for viewers using ad blockers

Wikia is not accessible if you've made further modifications. Remove the custom ad blocker rule(s) and the page will load as expected.